April 5th, 2020-Palm Sunday with Father Matthew Walter
Another and easier way to give to your Parish!
Important Safety Information regarding Text2Give
A Statement from the Business Office regarding the Security of Txt2Give OnLine Giving
Our parish is using "Txt2Give" to manage text gifts for donations.  Txt2Give's team has extensive experience developing software that handles electronic payments. Bank-level encryption is used when transmitting credit card data to a secure processor, and sensitive credit card information never enters Txt2Give. It's transmitted directly from the mobile device to the payment processor. Txt2Give is the same platform used by the Diocese of Rochester for CMA gifts. The Diocese vetted this platform with its legal counsel and auditors for security, PCI compliance*, and compatibility with its payment processor before implementing and endorsing it for use in the parishes.
If you have questions regarding Text2Give, please contact our Finance Director, Mary Capone at 585-281-7440.
*PCI compliance standards require merchants and other businesses to handle credit card information in a secure manner that helps reduce the likelihood that cardholders would have sensitive financial account information stolen.
A Letter from Father Tedesche
A Message from Father Matthew Walter
My Dear People,
Palm Sunday ushers in the great drama of Holy Week, where the Church, year after year, century after century, relives the mysterious events of Christ's Passion. These ceremonies and liturgical celebrations are not just reminders of past events, like a battlefield reenactment or an historical play. The saving acts of Jesus while on earth are eternally 'living', since for God, there is no past or future, but an eternal "now". We know that every Sacrament puts us in contact with, and brings us the fruit of the redemption of Christ on the Cross. In every Mass the sacrifice of Calvary is made present on our altars. Holy Week then is truly the culmination, the highpoint and the center of the entire year, reaching its glorious crescendo in the moment of the Resurrection. The Cross and the Resurrection- without these two events our Faith would be empty, for the Church Christ Himself established draws its own life from this death and resurrection. In fact, for every individual Christian, even our lives are a participation in the sufferings of Christ, since by Baptism God shares with us His grace, and the source of this grace is the saving Cross of Our Savior.
Not only do we participate in His sufferings in this life, but in a very real way His resurrection too. Certainly, our share in the resurrection belongs fully to when we also will rise, ultimately in our bodies at the end of the world. But in the mysterious yet real pattern of our spiritual life, even our sufferings, while joined to Christ on the cross, are joined to His resurrection. How is this? Christ didn't suffer just to suffer, but to save us and triumph over death and sin. When we unite our sufferings to Jesus, it isn't just to be consoled and to feel better, but let Jesus turn these sufferings into a victory, to let them become powerful to bring about His Kingdom, in our souls, and in the entire world.
To participate in the saving act of Jesus on the Cross, we need to unite ourselves to Him by Faith. Attending Mass is the central action we do to live this Faith practically, because by doing so, we are joined spiritually to Christ and allow His mercy and divine life to flow into our souls. And yet here we are, prevented from being physically present during the highest Liturgies of the year. What do we do? This is where our Faith needs to be supercharged. This is where God is calling us to increase our own initiative to seek Him and to intentionally and "actively" join in a spiritual way to what will be happening during the holy days of the Paschal Triduum, Holy Thursday, Good Friday, Holy Saturday, and Easter. Being prevented from participating physically needs to become the stepping stone and springboard to increase authentic spiritual participation by prayerful Faith. It can be easy when we go to Church just to "watch" like it's a TV show. Even if we are participating physically in the Liturgy in some way, it doesn't necessarily mean that we are joining ourselves to Christ's actions on a deep spiritual level.
Last week I talked about how God can draw good out of this current situation. One of the ways this can happen is by forcing us to unite to the Mass and to the ceremonies of the Liturgy by Faith and prayer when we cannot be present bodily. Even if we "watch" Mass on television or the internet, we can't "watch" it like a program. We have to join ourselves to what is happening on a spiritual level by Faith and prayer. The more we are limited physically, the more our hearts and our souls have to come alive.
One of the best ways to accomplish this practically is by making what is called a "Spiritual Communion". For most of the Church's history, people did not receive Holy Communion that frequently. Many of the saints recommended joining themselves to Jesus in a spiritual way when they were unable to receive Him sacramentally. What does this consist of? We do so by praying for Christ to come into our hearts and souls, just as if we were to receive Him in the Eucharist. Then, after inviting Him, spend a few moments in adoration, conversation and gratitude with your Divine Guest.
Here is a simple but beautiful prayer which helps us make a Spiritual Communion:
My Jesus, I believe that You are present in the Most Holy Sacrament.
I love You above all things and I desire to receive You in my soul.
Since I cannot at this moment receive You sacramentally, come at least spiritually into my heart.
I embrace You as if you were already there and unite myself wholly to You.
Never permit me to be separated from You.
Amen.
The great drama of Christ's suffering is being lived out at this very moment during the coronavirus pandemic by our Holy Mother, the Catholic Church. It is being lived in the lives of individual Christians. But if we are participating in His Passion, we are preparing to join in His resurrection. The light of our Faith alone can lead us at this moment. God is trying to make it shine brighter in your soul and heart. Let the candle become a lamp, let the lamp become a fire, and let the fire become a blazing and burning furnace of love. It is the flame of divine love which alone can overcome the flames of hell. You have only two choices in a time like this, let your Faith grow stronger or let it weaken. Trust, or give in to discouragement. See only the useless suffering of Man condemned to death on a Cross, or see God's solution to renew the world.
Fr Walter
Welcome to St. Joseph the Worker
Before our merger, we were three separate parishes,
but we are now three churches in one parish,
St. Joseph the Worker.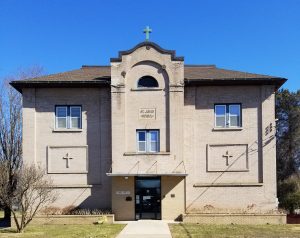 Office Address: 43 West DeZeng St. Clyde, NY 14433
Phone: 315-902-4130
Hours: Monday - Thursday
8:00 a.m. till 12:00 p.m. (OFFICES CLOSED DUE TO COVID-19)
EVEN THOUGH ARE OFFICES ARE CLOSED TO THE PUBLIC, OUR STAFF IS STILL WORKING. WE ARE REGULARLY MONITORING VOICEMAILS AND EMAILS.  LEAVE US A MESSAGE OR SEND US AN EMAIL, AND WE WILL RESPOND PROMPTLY.
Mass & Confession Times
Daily Mass Times (ALL MASSES ARE SUSPENDED TILL FURTHER NOTICE)
Tuesday 7:30 AM St. John the Evangelist, Clyde
Thursday 7:30 AM St. John the Evangelist, Clyde
Friday 7:30 AM St. Michael's, Lyons
First Friday Mass Times (ALL MASSES ARE SUSPENDED TILL FURTHER NOTICE)
7:30 AM St Michael's, Lyons, Mass with devotions followed by Benediction at noon
6:30 PM St. John the Evangelist, Clyde (Latin Mass)
*Note: On Fridays if Lyons school is closed or delayed, then the Mass at St. Michael's will be cancelled. On Tuesdays and Thursdays, if Clyde-Savannah school is closed or delayed, then Mass at St. John's will be cancelled.
Weekend Mass Times (ALL MASSES ARE SUSPENDED TILL FURTHER NOTICE)
Saturday 4:00 PM St. Michael's, Lyons
Saturday 4:00 PM St. Patrick's, Savannah
Sunday 10:00 AM St. John the Evangelist, Clyde
Confession Times 
DURING THE COVID CRISIS, CONFESSIONS ARE BY SPECIAL APPOINTMENT.
THERE WILL BE SET TIMES FOR CONFESSION DURING HOLY WEEK. THESE TIMES WILL BE POSTED IN THE NEAR FUTURE.

Saturday 2:45 PM - 3:45 PM St. Michael's, Lyons
Saturday 2:45 PM - 3:45 PM St. Patrick's, Savannah
First Friday's 5:30 PM - 6:20 PM St. John the Evangelist, Clyde
Upcoming Events
April 9 @ 7:00 pm

-

8:00 pm
Psalm 51 (Take a listen!)
Bishop Matano's homily for Palm Sunday 2020
Live stream Masses with Bishop Matano
Full Holy Rosary
Bishop Barron -Stations of the Cross Meditations
SJTW Chaplet of Divine Mercy. Thank you Marty & Bea Pursati!
SJTW Parish video
Baltimore Catechism, No 2, Lessons 7-9