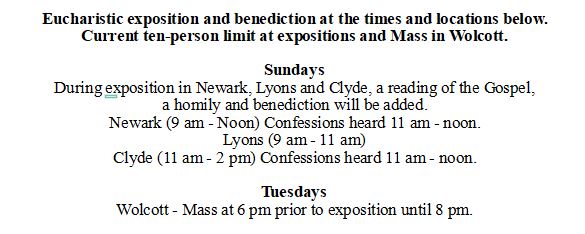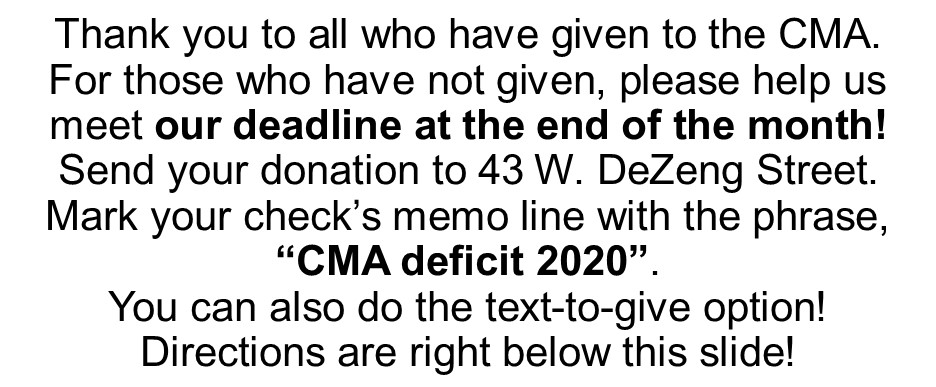 Returning to the public celebration of Weekday Masses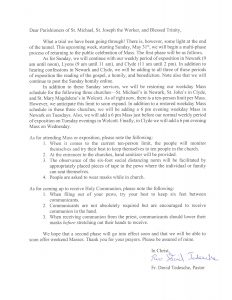 Scripture verse of the day
Luke 10:25-28
There was a scholar of the law who stood up to test him and said, "Teacher, what must I do to inherit eternal life?
Jesus said to him, "What is written in the law? How do you read it?"
He said in reply, "You shall love the Lord, your God, with all
your heart, with all your being, with all your strength, and with
all your mind, and your neighbor as yourself."
He replied to him, "You have answered correctly; do this and you will live."
Amen.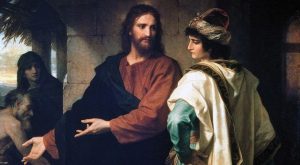 A Message from Father Matthew Walter- May 24th, 2020
My Dear People,
I hope that you have not forgotten who I am since Fr Tedesche wrote the bulletin article last week. I know how short the attention span of the public is. Since we are not yet able to begin to restart our public liturgical life as Catholics just yet, we can continue to find ways to remain united to God when we cannot be united to him in the primary way- that of attending Mass bodily. Of course, our worship of God at Mass on Sunday has to be nourished by prayer throughout the week, and so this time of 'quarantine' helps us grow in that area, which we may have overlooked, or even taken for granted before.
We are still in the month of May, which is devoted to Our Lady. Now that things are becoming warmer and greener, a point I can't emphasize enough since it is one I am very grateful for, we can easily see why the growth of spring makes us think of Mary and turn to her. The Easter season has officially ended with Ascension Thursday this past week, and now we begin a new movement towards Pentecost. Allow me to take these two things as means for us to have practical tools for prayer.
Several times in bulletin articles I have spoken on the power and importance of praying the rosary. At Fatima, Portugal in 1917, in the most 'public' of private revelations in the history of the Church, witnessed by over 60,000 people, Our Lady told the three shepherd children that Catholics needed to pray the rosary daily for world peace and for the conversion of sinners. No private prayer in the Church has been as endorsed and promoted by Popes and religious orders as the holy rosary. We know it is a spiritual weapon of unequalled proportion.
At this time, when we are prevented from receiving Holy Communion and even attending Mass physically, the rosary needs to become one of our principal ways of remaining close to God. In fact, this time may even be God's way of getting us to pray it, if before we were hesitant to do so for any reason whatsoever. Many people find help praying it by following along with a video or program on EWTN where it is said together with others. If this works or helps, good. You may not find it useful for you. Do what will allow you to pray the best. Especially for families, praying the rosary together right now is an excellent means to not let God go out of the picture for your children. Why not start by doing this Sunday mornings?
The time between Ascension Thursday and Pentecost Sunday is the primary Novena of the Church, meaning, nine days of prayer. When you read this, Sunday, we will already be into it a little. It is not too late to pray to the Holy Spirit daily in preparation for this great Feast. The best way to do it? As the first Apostles did - in union with Mary.
"Redeem the time" as St Paul says in Ephesians, use it well until things return to normal. The world, our country, and our Church need your prayers. Do your part, and you will come out of this strange situation stronger in God, in His love, and in your Faith. I am praying for all of you daily, especially in my Mass and rosary. Come Holy Spirit, come by means of the powerful intercession of Mary Immaculate, your well beloved Spouse.
Fr Walter
Welcome to St. Joseph the Worker
Before our merger, we were three separate parishes,
but we are now three churches in one parish,
St. Joseph the Worker.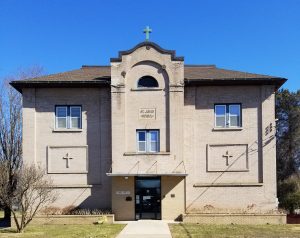 Office Address: 43 West DeZeng St. Clyde, NY 14433
Phone: 315-902-4130
Hours: Monday - Thursday
8:00 a.m. till 12:00 p.m. (OFFICES CLOSED DUE TO COVID-19)
EVEN THOUGH ARE OFFICES ARE CLOSED TO THE PUBLIC, OUR STAFF IS STILL WORKING. WE ARE REGULARLY MONITORING VOICEMAILS AND EMAILS.  LEAVE US A MESSAGE OR SEND US AN EMAIL, AND WE WILL RESPOND PROMPTLY.
Mass & Confession Times
Daily Mass Times (STARTING TUESDAY, JUNE 2ND, 2020) 
Tuesday 7:30 AM St. John the Evangelist, Clyde
Thursday 7:30 AM St. John the Evangelist, Clyde
*Wednesday 6:00 PM St. John Evangelist, Clyde
First Friday Mass Times (FIRST FRIDAY MASSES ARE SUSPENDED TILL FURTHER NOTICE)
Weekend Mass Times (ALL WEEKEND MASSES ARE SUSPENDED TILL FURTHER NOTICE)
Confession Times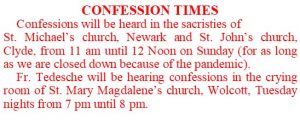 Ascension (May 24th, 2020) with Father David Tedesche
Hello from our Clergy!
Mass with Bishop Robert Barron (Friday, May 29th, 2020)
Bishop Barron on How to Disagree Well
Bishop Barron on Religion and Happiness
Immaculate Mary by John & Nancy Bryan and Choir!
Full Holy Rosary
SJTW Chaplet of Divine Mercy. Thank you Marty & Bea Pursati!
SJTW Parish video