Jesus came to heal the whole person, body and soul.
In the Church's Sacrament of Anointing of the Sick, through the ministry of the priest, it is Jesus who touches the sick to heal them from sin – and sometimes even from physical ailment. His cures were signs of the arrival of the Kingdom of God. The core message of his healing tells us of his plan to conquer sin and death by his dying and rising.
The Rite of Anointing tells us there is no need to wait until a person is at the point of death to receive the Sacrament. A careful judgment about the serious nature of the illness is sufficient.
When the Sacrament of Anointing of the Sick is given, the hoped-for effect is that, if it be God's will, the person be physically healed of illness. But even if there is no physical healing, the primary effect of the Sacrament is a spiritual healing by which the sick person receives the Holy Spirit's gift of peace and courage to deal with the difficulties that accompany serious illness or the frailty of old age.
~from the USCCB website http://www.usccb.org/prayer-and-worship/sacraments-and-sacramentals/anointing-of-the-sick/index.cfm
If the death of a loved one is imminent and is in need of Last Rites, please call
585-208-2433.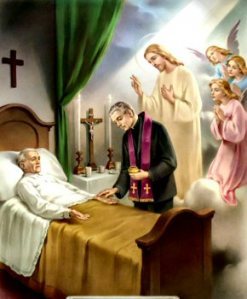 "I realize as never before that the Lord is gentle and merciful; He did not send me this heavy cross until I could bear it. If He had sent it before, I am certain that it would have discouraged me . . . I desire nothing at all now except to love until I die of love. I am free, I am not afraid of anything, not even of what I used to dread most of all . . . a long illness which would make me a burden to the community. I am perfectly content to go on suffering in body and soul f…or years, if that would please God. I am not in the least afraid of living for a long time; I am ready to go on fighting."
AMEN.
— St. Therese of Lisieux